Type 1 to Type 2 EV Charging Cable Introduction
Mobile AC charging cable with Vehicle Connector and Infrastructure plug for charging electric vehicles (EV) with alternating current (AC), via type 1 Vehicle Inlets, compatible with type 1 Infrastructure Socket Outlets at charging stations for E-Mobility (EVSE).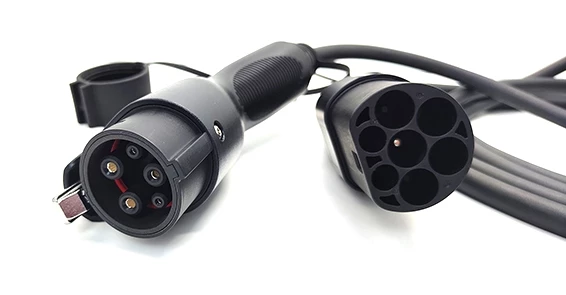 Type 1 to Type 2 EV Charging Cable Features

Safety Assurance
Already passed all tests of TUV and CE. There are all kinds of protective measures to ensure the safety of every user.

High quality cables
Teison TPU cables make the charging gun itself smaller in size and easier to charge.

Quick and Easy Operation
Simply connect the plug with the EV's inlet, and then the charger will automatically detect the connection status and handshaking protocol to starts charging.

Intelligent Chip
Automatically repairing minor charging problems while charging.
Type 1 to Type 2 EV Charging Cable Packaging